Click on the name to jump to that section...
Parishioners are encouraged to use this page to familiarize themselves with the current mass setting.
Latin Chant Mass Setting

​
Listen to samples:
Sanctus (Holy, Holy)
(
Text
)
Memorial Acclamation
(
Text
)
Agnus Dei (Lamb of God)
(
Text
)
Mass for St. Frances Cabrini
Featuring memorable tunes, this simple and direct hymn-like setting will instantly grab your assembly's interest. Composed to meet the needs of the average parish, the recurring melodic themes will help you teach this Mass to your congregation with ease.
Preview - melody only (guitar part)
Listen to samples:
Kyrie - Penitential Act
Glory to God
Alleluia
Lenten Gospel Acclamation
Holy, Holy
We Proclaim Your Death, O Lord
When We Eat This Bread
Save Us Savior
Doxology and Amen
Lamb of God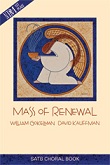 During the ordinary and more joyous times, SJV will be singing the award-winning Mass of Renewal by David Kauffman and William Gokelman. NPM invited composers to create musical settings of the new English translation of the Mass. A panel of five judges selected four finalists to be rated by convention participants who awarded Kauffman's Mass of Renewal 1st place from more than 150 entries that were submitted.
Listen to samples:
Gloria
Gospel Acclamation
Sanctus
M. Acclamation
Amen
Agnus Dei

(alt: watch on YouTube )
A worthy and dignified setting perfect for any Sunday Mass and festive occasions. The solid and satisfying keyboard parts support the singing assembly splendidly.
Sheet Music:
| | | | |
| --- | --- | --- | --- |
| Gloria | Gospel&Holy | Memorial | Amen&Lamb |
Listen to samples:
Gloria (sample only)
Gospel Acclamation
Holy, Holy, Holy (Sanctus)
Memorial Acclamation: We Proclaim Your Death O Lord
Memorial Acclamation: When We Eat This Bread
Memorial Acclamation: Save Us Savior of the World
Great Amen
Lamb of God (Agnus Dei)
 
Storrington Mass
Missa Emmanuel